Apple is Investable Only After Settlement With Qualcomm
Typical of markets with its short-term memory,
Apple's
(
AAPL
) devastating weak iPhone sales warning gave way to a market snapping back. The S&P 500 rose 2.6% on the week.
The weekly total gains is effectively a year's worth of returns. Never mind the trade war, which will likely end with punitive tariffs still in place, or the government shut down.
DIY Members
will now build a trading plan as these companies report earnings. So far, banks are lifting markets, led by
Goldman's
(GS) strong results and
Bank of America
(BAC) reporting good numbers. Again.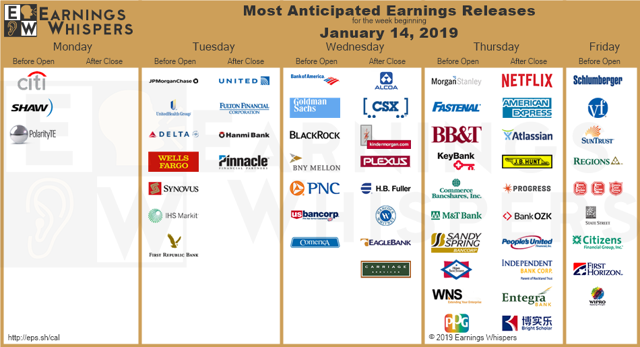 Netflix
(
NFLX
) subscription numbers will drive cash flow next. Only if 100% of the subs stay. Otherwise, that $2B+ FCF increase forecast won't happen. The stock is up 27% in just one month. NFLX reports results on Thursday, January 17 after market close.
Apple Should Settle with Qualcomm
Previously,
Qualcomm's
(
QCOM
) NXPI deal played out with trading gains for
DIY Members
. The next game plan for QCOM and Apple three-fold.
First, Apple itself is a compelling investment if the company becomes less petty with suppliers. It owes a lot to Qualcomm but for whatever reason, refuses to pay. That pettiness is spreading. Its iPhone X pricing model is out of touch. It is like a (
BB
) and must rely on old, 1-2 year old iPhone 7 and 8 sales to lift results. BlackBerry did that with the Curve? X is to Bold as iPhone 8 is to cheap Curve phones.
Apple stock would go up if it settled with QCOM and adopt 5G using QCOM chips. Fans keep praising Apple for letting Android and competitors test new tech first but would you rather pay $1500 for emoji 3D scanning or 5G?
Apple could further embrace future tech by taking a stake in
Tesla
(
TSLA
). BlackBerry dropped out of smartphones for the most part but is now in secure IoT communications. In Automotive, too. But unlike BB stock, which
DIY Members
sold long ago in the $10 - $12 range, AAPL will trade to the $225 - $250 range.
I had a previous PT of AAPL $150 set in Nov. 2018.
Game Play on Apple Suppliers
The game play with Apple suppliers changed and
DIY Members
needed to revise the allocation in them. This included
Lumentum
(
LITE
),
II-VI
(
IIVI
),
Qorvo
(
QRVO
), Taiwan Semi (
TSM
).
In the Android space, we anticipated a CES 2019-driven
Himax
(NASDAQ:
HIMX
) rally.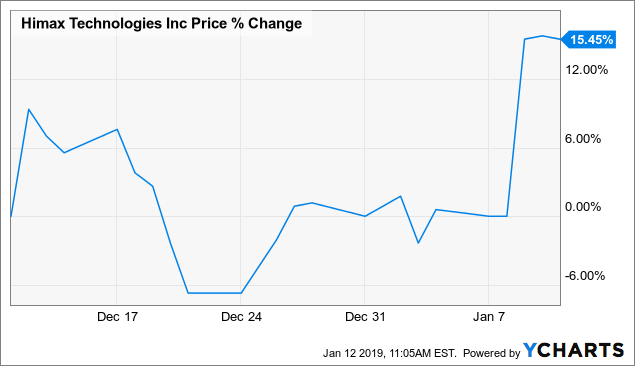 Will Himax fade or continue higher like last year, much to the chagrin of shorts? Join the
DIY Value Investing
marketplace to find out.