Yelp Q4'18 Earnings - Live Updates
After the close,
Yelp (YELP)
reported Q4 numbers that beat estimates. In addition, the company established these 2023 goals.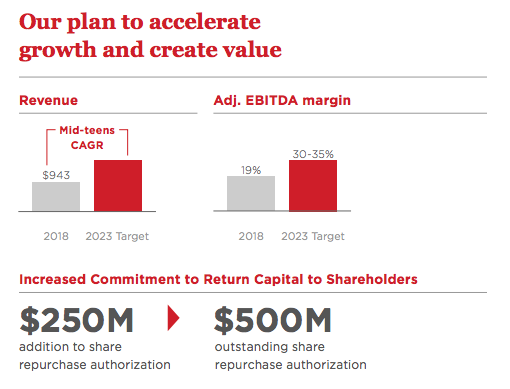 The amazing part is the potential for a $500 million share buybacks for a company with a market cap of around $3 billion. Yelp ended December with a cash balance of $756 million and generated $160 million in cash from operations.
With an enterprise value of slightly above $2 billion and revenue targets over $1 billion, the company should snap up shares left and right.
Update 2/14 10am est
The Citi downgrade crushed any hope for Yelp rallying today. Use any weakness to buy this cheap stock at an EV/S of 2x with a large stock buyback limiting the downside.
- Citi
downgrades
Yelp (NYSE:
YELP
) from Buy to Neutral citing the "disappointing" 2019
forecast
. Yelp guided revenue growth of 8% to 10% compared to the 10.5% consensus.
More research -
WhoTrades
Disclosure: Long Yelp.Please review the disclaimer page for more details.