Out Fox The $treet - November 15, 2019
Stocks to watch on Friday:
Aurora Cannabis (ACB)
- the large Canadian cannabis company continued the pattern of horrible September quarterly numbers. The company made steps to curb supply, but Aurora Cannabis still produced 41K kg in the quarter and only sold 12K kg. The market valuation is still a rather high $3.6 billion with quarterly revenues of only $57 million. The FQ1 results were the first big signs of rationalization in the sector, but also only a small step before Aurora Cannabis becomes a buy with an Adjusted EBITDA loss of C$40 million.
AMD (AMD)
- RBC raised the price target to $50 from $44. AMD remains in a major breakout towards $50, but the recent rally appears stretched. The stock might retest $36 here.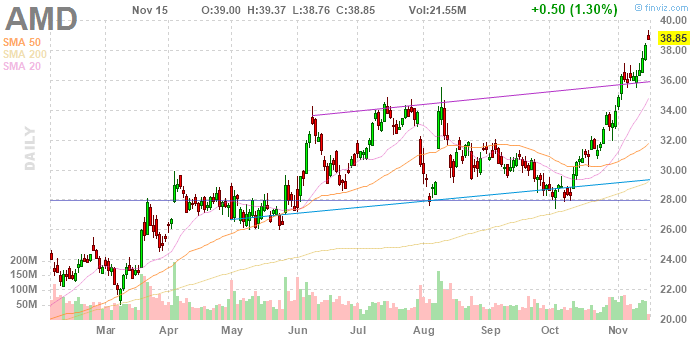 Fitbit (FIT)
- worth watching here with the stock trading down to $6.80. Some skepticism exists on whether the government allows
Alphabet (GOOG)
to buy Fitbit. The merger arbitrage is only about $0.55 now, but some easy money could exist on a further dip.
Disclosure: Long FIT. Please review the disclaimer page for more details.