The Facebook Mobile Advertising Issue
As
Facebook (FB)
prepares to launch it's IPO this week, the company faces a rather alarming issue. The company continues growing users, but advertising revenue isn't keeping up. Somehow the company has allowed itself to dramatically grow mobile traffic without having a mobile strategy in place.
It seems incredible that
Apple (AAPL)
already has out the 4th version of the iPhone and Facebook still lacks a strategy. Wouldn't the success of the original phone been a great indication that it needed to obtain a plan and in a hurry.
Below is a table on the mobile traffic of the leading social networking sites
provided
by PCWorld. As noted in the article, the average mobile user engaged the app for more than 7 hours back in March.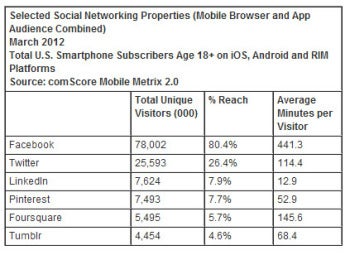 Just look at how you view Facebook. For me, about the only time I visit the site is via my iPhone4. Either I'll post a picture or check the news feed. Hardly though will I go online via my iMac. How could Facebook not have a strategy yet?
Below is some more commentary from the Deal Journal, highlighting the issues with mobile advertising.
This highlights the potential of Millennial Media (MM) and Velti (VELT) that run mobile networks and agencies. Both companies have been hit hard probably partially due to the issues highlighted by Facebook, but to us this just highlights that maybe it needs these companies to help them monetize the mobile traffic.
Disclosure: Long AAPL and VELT. Please review the disclaimer page for more details.