Novavax Fails Again
Before the bell,
Novavax (NVAX)
released results on the latest Phase 3 test for RSV for infants that failed to meet desired results. The failure follows similar results with the RSV for older results a couple of years ago.
The study failed to sufficiently separate from placebo as measured by the incidence of RSV lower respiratory tract infection (LRTI) through 90 days of life, the primary endpoint.
In the treatment group, the incidence of medically significant RSV LRTI was 39% (placebo incidence not provided).
Other trial highlights provided in the presentation.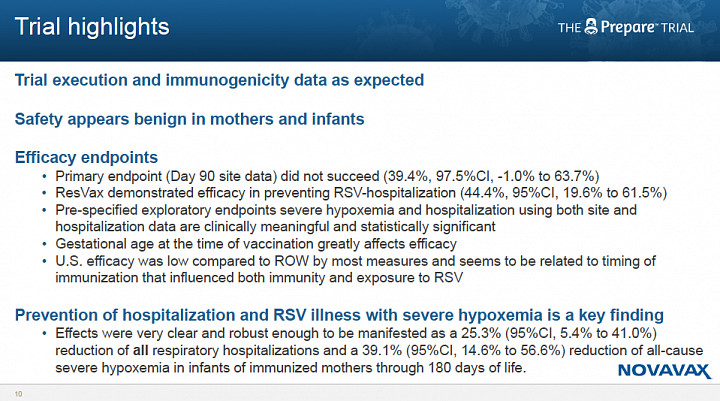 The stock is being hammered down 67% to $0.69. Cowen slaps a $0.25 target on the stock has Novavax has again failed to get a drug approved while spending millions on drug testing. My long frustration with the company is that they constantly shift focus on vaccines without any results while burning cash left and right. The lack of partnerships for their promising vaccines has always been a telling story since the small biotech has raised so much money with the stock below $2.
Novavax still has potential with the Flu vaccine, but investors are going to be tired of sending the company money to waste. Continue to avoid the stock.
Update 3/1
The stock is interestingly flat on the second day following the bombshell failure. Watch for the company to start pushing the NanoFlu vaccine entering Phase 3 and the parts of the ResVax Prepare trial that did work.
Remember that Novavax has a history of rolling onto the next vaccine and usually one that was an afterthought previously. RexVax was a major afterthought when the company thought RSV F in Older Adults was the meal ticket.
More research:
Novavax: No More Hope
Daily research:
WhoTrades
Disclosure: No position.Please review the disclaimer page for more details.