Disney: Predictable Decline
The
FQ4 results
for
Disney
(
DIS
) were predictably weak. The ongoing weakness in cable networks was hidden last year by the strength of movies and the media giant is now getting hit by weaknesses in both segments.
Incredibly though, the stock still trades near $100 and at levels that mostly exceed the price last year. Is now really the time to own Disney as the company embarks on a digital shift? Disney missed both top and bottom line analyst estimates in a sign of how bad the times are now. The media giant has missed revenue estimates for five consecutive quarters, but the company didn't previous miss EPS forecasts. Disney faces multiple issues that can't offset the positive momentum from their parks and resorts division.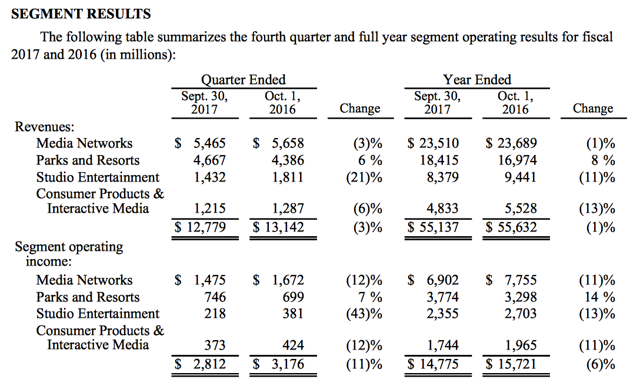 Source: Disney FQ4'17 earnings release
The real issue in the quarter was the slowdown in the studio movies that had blowout numbers last year. The weakness in the media networks like ESPN that get all of the attention weren't really the problem. Studio Entertainment saw revenues plunge 21% to $1.4 billion as the string of theatrical movie success was impossible to continue. Last FQ4, Disney completed a year where the segment saw revenues surge 28% to nearly $9.5 billion.
The more normalized numbers in the Studio Entertainment sector will help going forward so that the focus can shift back to Media Networks. The bottom line numbers were a little murky as the 3.5 percentage point reduction in the income tax rate actually propped up FQ4 results while some film impairment charges offset this benefit.
Either way, the time to own Disney is once the company gets the shift to digital aligned with the market and sports rights fees are under control. The company needs to quit laying employees off at ESPN in order to signal the bottom. The additional 100 employees
rumored for layoffs
after Thanksgiving will only spiral business downward while the solution is to reduce the arbitrary costs of rights fees to games.
The stock trades at about 16x forward EPS estimate that continue to decline. These results won't buoy estimates suggesting more analyst cuts will push up the P/E ratio without stock losses.
The key investor takeaway is that Disney is untouchable above $100. The stock remains far too expensive for an unknown future and struggling divisions.
The weakness and declines in the stock remains predictable.